Waterman's First Advertisement?
Over the years history-minded pen collectors have been steadily picking away at the many myths that surround the early years of Waterman pen production. The story of how Lewis E. Waterman was prompted to make a better fountain pen by an ink blot on an insurance contract is now generally believed to be spurious, a posthumous invention. Similarly, the picture of Waterman as a naïf with more bonhomie than business sense is now known to bear little resemblance to the real man, an aggressive and experienced entrepreneur.
By all indications, Waterman was not a man to wait for opportunity to come to his door. Yet according to company biographies published well after his death, he was supposedly reluctant to advertise, and only began to do so after a customer offered to front the cost of the first advertisements, to be paid back only if they proved their worth. These accounts further specify that these first advertisements appeared in the Review of Reviews.
Since Waterman magazine advertisements began to appear regularly from the mid-1880s on, there is a bit of a problem with the story line above, given that the London Review of Reviews was not founded until early 1890, expanding to the United States with the opening of a New York City office only in January of 1891. And in fact, a recently-located advertisement now proves that Waterman was actively promoting his new fountain pens from the very beginning.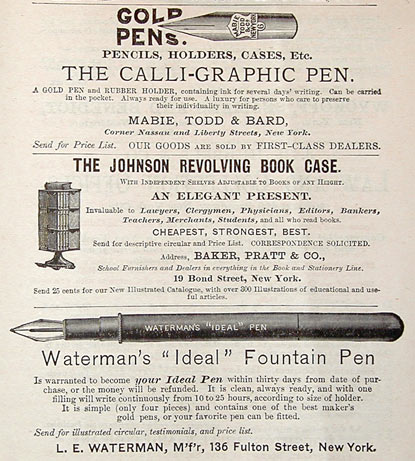 The advertisement appears in the appendix of the 1883-1884 edition of Hubbell's Legal Directory, and promises that the Waterman pen will "become your Ideal Pen within thirty days from date of purchase, or the money will be refunded." As with other early Waterman pens, it could be purchased with nib or fitted with a nib supplied by the customer. Interestingly enough, on the same page there is an advertisement for Mabie, Todd & Bard's Calli-graphic fountain pen, a slightly earlier competitor.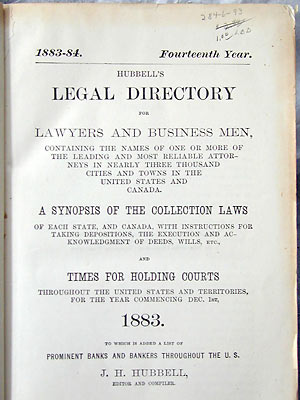 This seems to be the earliest Waterman advertisement yet identified, but exactly how old is it? The title page of the directory notes that its section on Times for Holding Courts covers the year commencing December 1st, and the state-by-state listings of court calendars within are prefaced by notes stating the dates that the information was compiled, ranging from July 1st to December 1st. The advertisement could thus have been submitted as late as December of 1883, for an actual publication date at the very end of that year or the beginning of 1884 (the copyright submission notice is dated 1884). It is unlikely to have been submitted much later, however, and the Fulton Street address clearly indicates a date prior to the move to Murray Street in March of 1884.
The Hubbell's advertisement would appear to go back to the first few months of Waterman pen production. Will yet earlier advertisements turn up? I am looking.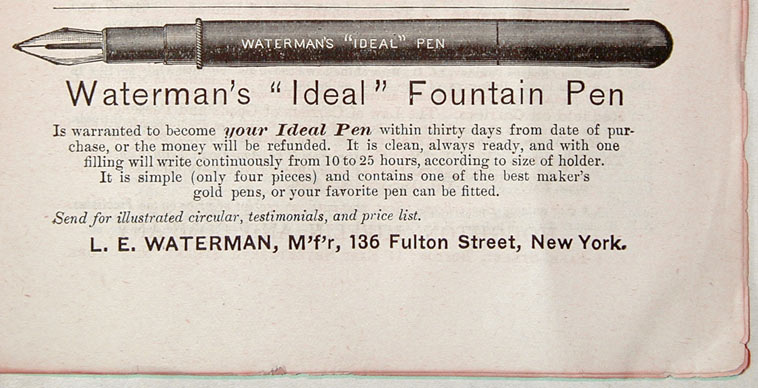 ---
Copyright © 2004 David Nishimura. All rights reserved