Top-line penmakers offered models with fancy overlays from a very early date. Cheap imitations did not take long to hit the market, but few collectors nowadays appreciate quite how inexpensive the cheapest of the cheap actually were. It may seem unbelievable, but the models shown below could be had at wholesale from between $11.50 and $20 per gross, $2 extra for boxes and eyedroppers.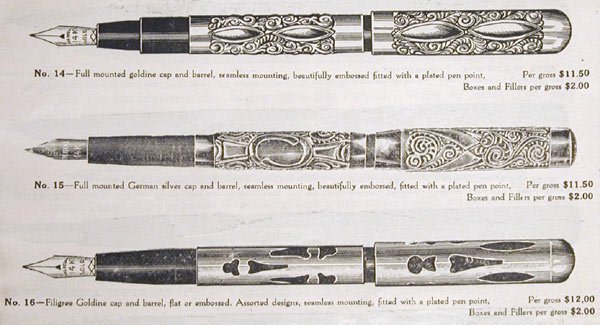 For the pens themselves, that comes out to less than eight cents each for the pseudo-repoussť overlays, a bit over eight cents each for the models with pierced work, and still less than fourteen cents for the fanciest model with metal-covered cap and pearl-slabbed barrel. Retail pricing would have been higher, of course, but even if the catalog prices are doubled or even quadrupled, it is clear that these were very cheap items indeed. By way of comparison, your basic black Waterman 12 was then retailing for $2.75; with pierced sterling silver "Filigree" overlay, it would set you back $5.50. A Parker 47, with gold filled cap and pearl barrel, had a list price of $10.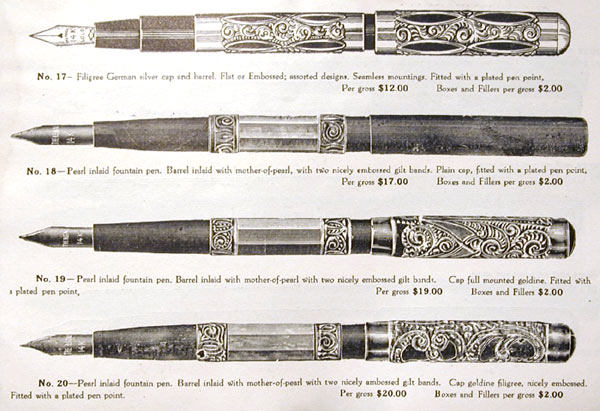 So how was the quality of these super-cheap overlay eyedroppers? Many of them survive, so one can state with assurance that you got what you paid for: no precious metal content, aside from the thinnest gold wash on the nibs and trim; out-of-round caps and barrels, molded rather than machined; crudely stamped decoration and obtrusive seams; and equally crude mother-of-pearl work, both clumsy and poorly finished.
The illustrations above come from a 1914 Berk Brothers catalog. The cover describes the New York City company as "importers manufacturers and jobbers of specialties" supplying "premium men, street men, fair workers, auctioneers, specialty men, carnival workers, give away, games, etc."