Several fountain pen manufacturers produced special Gregg-approved and marked models for shorthand writing. Most commonly found are the black Sheaffer flat-tops from the mid-1930s (which carry no Sheaffer imprints) and the slightly earlier Wahl roller-clip pens, both of which carry the enameled Gregg logo at the top of the cap. Then there is the Eversharp version from the late 1940s with a smaller logo at the top of its streamlined cap, and the scarce 1930s Waterman 92 with "GREGG" in high relief on the clip. To my knowledge, these were all the official Gregg-endorsed pens made – until a recent discovery, that is.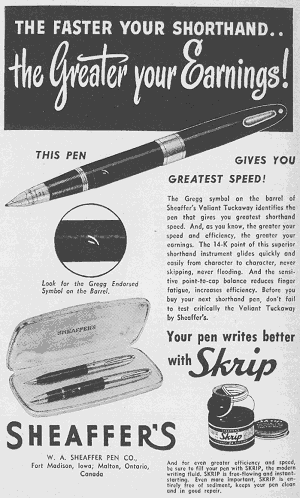 The Gregg Writer, Sep 1948
A few months back I picked up a few 1948 copies of the Gregg Writer, the shorthand system's monthly magazine. To my surprise, each copy contained an ad for a series of Gregg-endorsed Sheaffers that I had never seen, or at least noticed. All were ordinary-appearing Triumph or Valiant Tuckaway pens, outwardly distinguished only by the Gregg symbol imprinted on the front part of the barrel. A subsequent search for actual examples met with little initial success, but several weeks later I finally spotted the elusive Gregg symbol on the barrel of a black military-clip Sheaffer 500 – part of a set that I had purchased months before, never noticing the cryptic mark so lightly imprinted.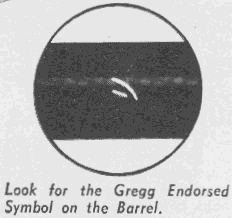 Detail from above
ADDENDUM: Thanks to Trace Pitzen, who points out that what I called "the Gregg symbol" is in fact the Gregg shorthand mark for "shorthand", consisting of the Gregg characters for "sh" and "and", to be read with the tip of the pen pointing upwards.
---
Copyright © 2000-2010 David Nishimura. All rights reserved