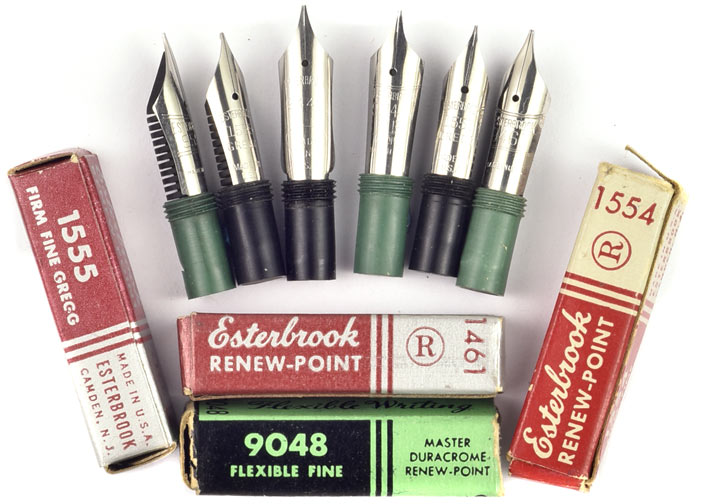 One of the many advanced features of Esterbrook's fountain pens was an easily-interchangeable nib unit that screwed into the section. Spare nib units remain in good supply, though with so many different nib types offered, some are now difficult to come by today.
Over the years we have had good luck in periodically finding old hoards of new old stock nib units, but these finds have become markedly less frequent as time has passed. These nibs are clearly not a renewable resource! Broad, flexible, and italic/stub nibs in particular have hard to find and ever more expensive. Our current inventory offers a wide selection: don't miss out, as past experience indicates that the scarcer sizes will sell out quickly. Stock up now, while these are still available!
NOTE: All of the nib units listed below are unused and as shipped from the factory. We guarantee them to be as described, but make no assurances regarding their writing qualities. Just as with new pens today, these nibs may require some tweaking in order to give the exact ink flow and "feel" on paper that you prefer. Nib descriptions are Esterbrook's own; nibs denoted here as "flexible" will generally have significantly less flexibility than gold nibs described as flexible in our regular catalog listings. "Relief" nibs are semi-oblique italics, with their tips only slightly angled.
Esterbrook links: Esterbrook Pen Profile -- Renew-Point Nib Chart -- Esterbrook refill guide
---
---
Listed below are deluxe nibs with longer-wearing, extra-hard tipping material, from Esterbrook's Master series (9xxx), as well as harder-to-find nibs of a more calligraphic nature from the standard Durachrome series (1xxx, 2xxx).
---
Esterbrook's "Dip Less" pens were special dip pens made to be used with bases that incorporated a large-capacity ink reservoir. They were not fountain pens, but they needed to be dipped less -- hence the Dip-Less monicker. Dip-Less pens can use either standard fountain pen Renew-Point nib units, or a special feed assembly in combination with a Dip-Less nib. These nibs have a tab which prevents them from being used with a standard-design feed without modification.
The nibs listed below all belong to Esterbrook's higher-end 7xxx series, and are made of stainless steel with hard osmiridium tipping of excellent quality. Their construction is that of a quality fountain pen nib, rather than of the typical disposable dip pen nib. Nibs are new old stock, box shown as illustration and is not included.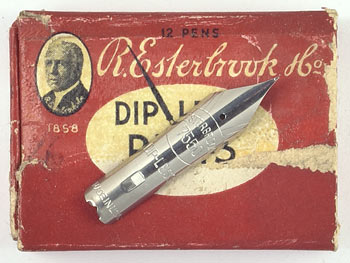 ---
---