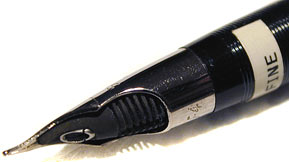 Sheaffer Snorkels and PFMs are equipped with a filler tube housed under the nib, which is extended by turning the end knob counterclockwise. Pull out the plunger tube once the filler tube is fully extended. Dip only the tip of the filler tube into the ink, then depress the plunger.

Leave the filler tube in ink for several seconds – the sac may take a while to inflate through the narrow Snorkel tube – then turn the end knob clockwise in order to retract the filler tube.
It is not advisable to pull the plunger tube out with the nib immersed (it is also unnecessary, since the pen fills through the extendable filler tube), since liquid may then be sucked into the pen body where it will rust the internal mechanism. In truth, this should not be a problem if the pen's seals are all in excellent condition, but it is best to play it safe especially since many Snorkels sold as "in working condition" have not been fully overhauled.