6319: Aikin Lambert Pet display card: very rare original display, 15.2 cm high, with 6 out of 12 pens still present; pens are miniature ringtop eyedropper-fillers in black hard rubber, with red or light green casein ends and 14K gold nibs, averaging 6.4 cm long; unused and of excellent quality, they are rather evenly sun-faded, and one of the red tops has two chips on the side facing the card; from a long-closed New York area pen shop, the only example of its kind we have seen.
DATE: c. 1920 • CONDITION: VG-fine* • $650

---

11986: Astoria miniature safety: black hard rubber ringtop with Italian 18K gold filled filigree overlay, 7.8 cm long, Astoria-marked 14K nib; true filigree work in this case, with beaded wire, excellent quality, must be examined closely for full appreciation. Seals have not been replaced, not ink-tight.
DATE: c. 1925 • CONDITION: fine-exc* • NIB: fine semiflex • $1650

---
11210: Dunhill Twopen: English-market version of the legendary Zerollo double-nibbed pen; helically-chased black hard rubber, 13.1 cm long, gold filled trim. Crisp imprints, fully marked, both nibs very soft and flexible.
DATE: c. 1935 • CONDITION: near mint • NIB: medium fine flex • $4850

---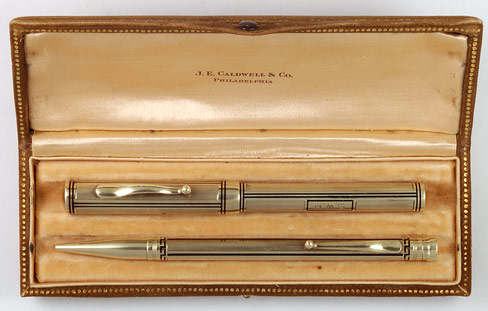 13438: Edward Todd lever-filler set in box: rare and elegant, solid 14K gold with black enamel trim, 12.4 cm long, #3 nib has a semistub tip, matching pencil uses 1.1 mm lead, both pieces neatly monogrammed "S.W.M.". Leather-covered box bears the name of the retailer, famed jeweler Caldwell & Co. of Philadelphia.
DATE: c. 1932 • CONDITION: exc • NIB: medium fine semiflex • $1650

---
9095: Parker 47 in box: iconic black hard rubber "Pregnant Parker" eyedropper-filler, 13.3 cm long, gold filled trim, nicely colored pearl slabs, #3 Lucky Curve keyhole-vent nib; 1910-dated inscription on cap cartouche, box is well worn, with ink stains and spots of wear-through on the cloth exterior. Pen itself is very clean, with no brassing and unfaded hard rubber, noting some scratches on the barrel end, probably from posting the cap. Fresh to the market -- from our personal collection, bought out of an estate over 15 years ago.
DATE: c. 1908 • CONDITION: exc • NIB: extra-fine flex • $6500

---
7792: Parker 58 Awanyu Aztec: legendary hard rubber eyedropper-filler with gold filled half-overlay with American Indian motifs; 13.7 cm long, cap restored, imprint weak but legible.
DATE: c. 1910 • CONDITION: VG* • NIB: fine flex • Full details on request
---
6218: Parker Jack-Knife Safety: rare baby Bakelite-barreled ringtop eyedropper-filler, black hard rubber, 7.75 cm long, gold filled trim; good barrel transparency, cap imprint light but legible, tight stable hairline in cap lip (see detail), Lucky Curve feed intact, #2 Lucky Curve nib has longitudinal hairline from base up to "C" in imprint.
DATE: c. 1913 • CONDITION: VG* • NIB: medium fine flex • $585

---

11323: Parker Duofold Senior: striking streamline button-filler in copper pearl -- not a catalogued color, with only a handful of examples known; 13 cm long, gold filled trim, full USA imprint, excellent color, some plating wear to the lower cap band. A notable Parker rarity.
DATE: c. 1932 • CONDITION: fine • NIB: fine • $2500

---

13651: Parker Vacumatic Secretary: extremely rare and short-lived model, designed to snap into a rubber base via the red ball at the cap top; 13.8 cm long, black with helically striped ink window, strong imprints with matching 3rd quarter date codes on barrel and nib, usual slight shrinkage to the barrel around the filler unit. This is only the third example we have offered in the past 20 years.
DATE: 1936 • CONDITION: fine* • NIB: fine • $1500

---
13450: Parker 51: rare pre-launch model in black with 1/10 14K gold filled cap in grouped parallel lines with monogrammed (CKB) cartouche, very early four-hole clutch; Blue Diamond clip, two-tone clutch ring, metal jewels appear to be silver, blind cap imprint is bold and lacks date code, aluminum Speedline filler has one ding on its side, shell has some tool marks (see details), condition of pen is otherwise excellent.
DATE: c. 1940 • CONDITION: fine • NIB: fine • $895

---
13537: Parker 51 desk set: elegant midcentury modern ensemble with rare Red Band button-filler desk pen, sharp barrel imprint with 3rd quarter date code; original synthetic sac is shown in the photo but has been replaced, original sac will be included; base is hefty gold-finished metal, 12.5 cm by 11.3 cm, very clean with only light marks on the black center panel, labels on bottom perfect. "Magnetix" swiveling socket is a Moholy-Nagy design for Parker. Red Band 51s are extraordinarily hard to find, as they were recalled almost immediately upon release.
DATE: 1946 • CONDITION: exc-near mint • NIB: fine • $825

---

12984: Parker 51 Demi Princess: extremely rare gold filled Aerometric filler, 12.5 cm long, with faceted "jewels" set into the ends and around the upper cap; shallow bumps to side of cap, otherwise excellent.
DATE: c. 1950 • CONDITION: fine • NIB: fine • $2250

---
12928: Parker 75 Ambassador: early and interesting nonproduction pen, sterling silver lined pattern differs slightly from later Ambassador version, cap is unmarked; gold filled trim, blue section with metal threads, solid ends with short-feathered clip set into top button rather than into the cap top, feed with number imprinted on concave slope.
DATE: c. 1964 • CONDITION: fine-exc • NIB: medium fine • $1200

---
11211: Unic Duocolor: French-market version of Zerollo's famous two-nibbed fountain pen, boldly patterned red and black hard rubber, 13 cm long, gold filled trim, bold imprints with patent number and both Unic and Zerollo names, crisp knurling at cap top. Condition is like new, noting a tiny nick to the cap lip (see detail; very common on these pens). Unusually, the nibs are different in tip width, one being more calligraphic and the other more suitable for note-taking.
DATE: c. 1935 • CONDITION: near mint* • NIB: medium stub flex/fine semiflex • $6500

---
11778: Wahl-Eversharp safety: extremely rare mottled hard rubber retracting-nib eyedropper-filler, 10.2 cm long, 14K Wahl #2 nib; not known in any ads or catalogs, these pens appear to have been made in France using US-made nibs and feeds, for European market testing. Internal spiral has been repaired.
DATE: c. 1923 • CONDITION: fine • NIB: fine flex • $650

---
6520: Waterman Remex Self-Filler No. 101: one of Waterman's earliest self-fillers, and so rare that most advanced collectors have never seen a complete example; construction is all-aluminum, with a hard rubber press-fit section assembly, sleeve rotates rather than slides to expose filler bar; this example is new old stock, and the hardened sac is preserved with the pressure bar laced in place exactly according to the William Ferris patent 799,897 of 1905 (Ferris' patent 950,817 of 1910 is the one covering the usual Waterman sleeve-filler design); 14 cm long, superficial shop wear, "PAT. APPL'D FOR" imprint.
DATE: c. 1905 • CONDITION: near mint • NIB: fine flex • $1500

---

9687: Waterman 12: English-market black hard rubber half-overlay eyedropper-filler, 13.2 cm long, 9K solid gold barrel overlay, London-hallmarked with Waterman factory maker's mark; pattern is a combination of twist and deeply hand-chased floral scrollwork -- uncatalogued, and hitherto unknown. Barrel cartouche is monogrammed, gold has been polished down, so that the date letter cannot be read..
DATE: c. 1908 • CONDITION: VG-fine • NIB: fine flex • $3850

---

6130: Waterman 14: black hard rubber eyedropper-filler with fluted gold filled overlay and bloodstone cap top seal; 13.3 cm long, a rare but fully catalogued factory model most often found in France and England (a version appears on p. 53 of Waterman's 1908 USA catalog under "Special Mountings" as Emerald End Special Fluted, priced at $50 -- more than three times the cost of a full sterling silver Snake); French hallmarks, no dings, but one small test mark on the seal bezel, imprints on posting end worn but mostly legible; #4 New York nib, spoon feed with patent date imprints.
DATE: c. 1908 • CONDITION: VG-fine • NIB: extra-fine flex • $1450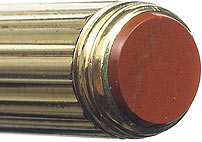 ---
9134: Waterman 402: black hard rubber straight-cap eyedropper-filler with enameled sterling silver overlay, 14.1 cm long; English-retailed, with the posting end marked "CALLOW OF MOUNT ST. MAYFAIR". Very clean, with no dings, or any tool marks to the posting end, though there are losses to the original inlaid white enamel stripes which have been restored with what appears to be cold enamel of a darker color -- losses which involve only the frontmost part of the barrel overlay, but the better part of the cap (condition otherwise would be excellent). Factory-made Waterman overlays with enamel work are extraordinarily rare, and appear to have been made only for a handful of ultra-luxe European retailers. This is only the second example we have seen in over 20 years of collecting.
DATE: c. 1908 • CONDITION: VG-fine* • NIB: extra-fine flex • $4895

---
11590: Waterman 18 SF: extremely rare black chased hard rubber sleeve-filler, 15.4 cm long; well-used, with sleeve imprint barely visible, chasing worn, two cracks in cap lip stabilized by insertion of a metal ring inside the cap (see details), surface of hard rubber has been chemically reblackened. Waterman sleeve-fillers are uncommon in any size, but are almost never seen in sizes larger than #5. This is only the third #8-size we have seen in the last 20 years.
DATE: c. 1912 • CONDITION: G* • NIB: fine semiflex • $1200

---

13162: Waterman 552V LEC: rare and uncatalogued black hard rubber lever-filler with smooth solid 18K gold USA factory overlay, 11.15 cm long. 18K marks on cap, barrel, clip, lever, and nib; no French hallmarks, but tiny Jules Fagard stamp is on heel of nib and back of lever end. Pinprick marks to cap, bumps and polishing wear to milling at end of barrel. Barrel end bears no number, cap is longer than usual for a "V" size pen. The only example of its kind known to date.
DATE: c. 1924 • CONDITION: VG-fine • NIB: fine flex • $1875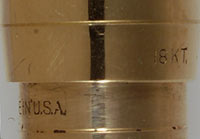 ---
10883: Waterman 58 Cardinal: giant red hard rubber lever-filler, 15.5 cm long, 18K gold filled trim, a fine example of a very scarce pen, all imprints clearly legible, #8 nib is a smooth and responsive writer; 3 mm long hairline at bottom of section mouth hard to see, does not go all the way through (see details), does not affect function.
DATE: c. 1925 • CONDITION: fine-exc* • NIB: fine stub flex • $2685

---
12900: Waterman 20: giant black chased hard rubber eyedropper-filler, 16 cm long, nickel plated trim, largest Waterman of its kind, huge #10 nib writes an elegant line. Crisp imprints and chasing, slight and even fading (has not been reblackened or otherwise treated), pen appears never to have been filled, though it had been dipped; minor handling marks.
DATE: c. 1925 • CONDITION: exc-near mint • NIB: fine flex • $2875

---
10458: Waterman Patrician set: classic Art Deco oversize lever-filler in near-pristine Nacre (black and pearl), 13.75 cm long, chrome plated trim, with matching 1.1 mm pencil; virtually unused, pencil eraser is untouched, pen appears to have been test-filled only, came to us with the original sac in place (see detail) which has not been replaced in order to preserve barrel color (can be resacked at no extra charge upon request). A few small patches of plating loss on the end glove of the pen, otherwise as new.
DATE: c. 1929 • CONDITION: near mint • NIB: needlepoint firm • $2000

---
11209: Zerollo Duo Color in box: legendary two-nibbed Italian pen in smooth black hard rubber, 13.1 cm long, gold filled trim, good strong cap imprint, clean original box.
DATE: c. 1933 • CONDITION: fine-exc • NIB: fine semiflex • $4650

---
---
---