NOTE: most Conway Stewarts have caps & barrels of casein; though water-resistant, these should not be soaked.
---
14962: Conway Stewart Scribe 330: black chased hard rubber clipless lever-filler, 13.3 cm long, nickel plated trim; barrel end threaded, cap screws on to post.
DATE: c. 1920 • CONDITION: fine • NIB: medium oblique semiflex • $175

---

12999: Conway Stewart Duro Point No. 7M pencil: mottled hard rubber, 11.1 cm long, good imprint with original gold infill, uses 1.1 mm lead; tiny split in hard rubber at tip, hard to spot, does not affect function as tip has a full brass liner.
DATE: c. 1925 • CONDITION: VG-fine* • $45

---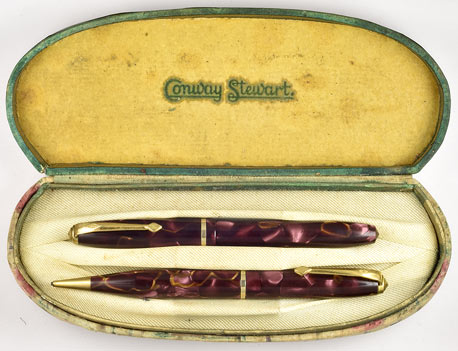 15543: Conway Stewart 550 Dinkie set in box: gold-veined red pearl miniature lever-filler, 10.3 cm long, gold plated trim, matching twist-action 25 pencil uses 1.1 mm lead. Nib opens with only slight pressure, not for the heavy-handed. Lovely material is casein-based, should be kept away from water.
DATE: c. 1955 • CONDITION: fine-exc • NIB: medium flex • $225

---
---