NOTE: most Conway Stewarts have caps & barrels of casein; though water-resistant, these should not be soaked.
---
16111: Conway Stewart 520: large black chased hard rubber clipless screw-cap eyedropper-filler, 13.5 cm long; this model number has not been seen before, the pen itself clearly made by Mabie Todd for Conway Stewart, identical to a #5-size Swan Safety Screw-Cap but carrying a smaller nib (originally a warranted or early Conway Stewart nib, rather than the present #2 Swan). Chips to the front edge of the section, cap crack has been repaired internally with a carbon fiber patch (see details).
DATE: c. 1919 • CONDITION: VG* • NIB: fine flex • $265

---
15720: Conway Stewart Le Tigre: vest pocket size black hard rubber lever-filler with 18K gold filled overlay, 9.2 cm long, uncommon export brand for the continental European market. Fully marked, nib tipping scant but still functional, brassing to lever and barrel end.
DATE: c. 1923 • CONDITION: G-VG • NIB: medium fine flex • $275

---

12999: Conway Stewart Duro Point No. 7M pencil: mottled hard rubber, 11.1 cm long, good imprint with original gold infill, uses 1.1 mm lead; tiny split in hard rubber at tip, hard to spot, does not affect function as tip has a full brass liner.
DATE: c. 1925 • CONDITION: VG-fine* • $45

---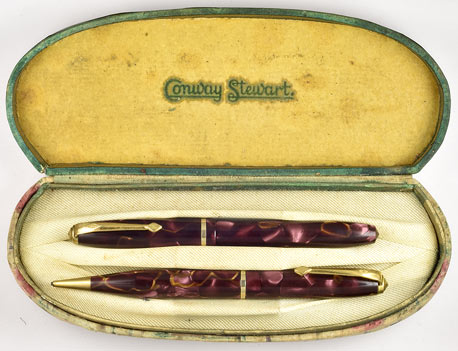 15543: Conway Stewart 550 Dinkie set in box: gold-veined red pearl miniature lever-filler, 10.3 cm long, gold plated trim, matching twist-action 25 pencil uses 1.1 mm lead. Nib opens with only slight pressure, not for the heavy-handed. Lovely material is casein-based, should be kept away from water.
DATE: c. 1955 • CONDITION: fine-exc • NIB: medium flex • $225

---
---