14254: A. A. Waterman twist-filler: black hard rubber slip-cap, rare and desirable hand-chased high-relief gold filled overlay, 14.25 cm long; #3 Modern New York nib has lost its tipping and has the beginning of a stress hairline extending from the right side of the vent hole. Condition is otherwise excellent -- a spectacular pen, with patent dates of 1899 and 1903.
DATE: c. 1903 • CONDITION: exc* • NIB: medium fine • $2450

---

11986: Astoria miniature safety: black hard rubber ringtop with Italian 18K gold filled filigree overlay, 7.8 cm long, Astoria-marked 14K nib; true filigree work in this case, with beaded wire, excellent quality, must be examined closely for full appreciation. Seals have not been replaced, not ink-tight.
DATE: c. 1925 • CONDITION: fine-exc* • NIB: fine semiflex • $1250

---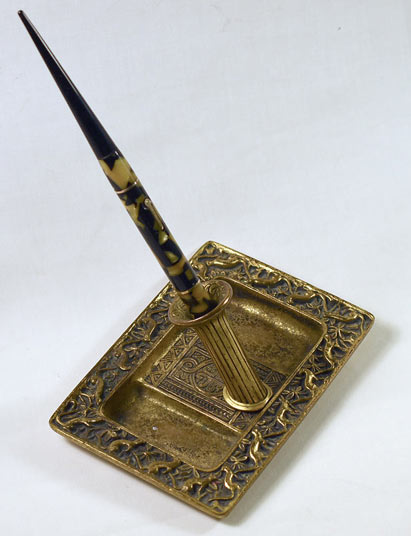 14038: Conklin Endura desk set: Tiffany base in gilt bronze, 5.25 x 3.75 inches (13.4 x 9.4 cm), one of the rarest pieces in the Venetian pattern, pen holder is specific to Conklin, comes with large black and pearl Endura lever-filler desk pen, gold filled trim, Endura nib has a turn-up tip, good for left-handers.
DATE: c. 1929 • CONDITION: fine-exc • NIB: medium • $1750

---
11210: Dunhill Twopen: English-market version of the legendary Zerollo double-nibbed pen; helically-chased black hard rubber, 13.1 cm long, gold filled trim. Crisp imprints, fully marked, both nibs very soft and flexible.
DATE: c. 1935 • CONDITION: near mint • NIB: medium fine flex • $3850

---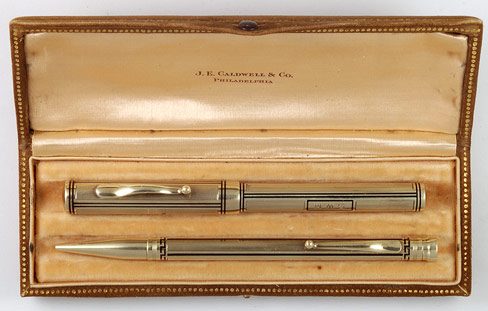 13438: Edward Todd lever-filler set in box: rare and elegant, solid 14K gold with black enamel trim, 12.4 cm long, #3 nib has a semistub tip, matching pencil uses 1.1 mm lead, both pieces neatly monogrammed "S.W.M.". Leather-covered box bears the name of the retailer, famed jeweler Caldwell & Co. of Philadelphia.
DATE: c. 1932 • CONDITION: exc • NIB: medium fine semiflex • $1650

---

15325: Parker 28 Jack-Knife Safety: oversize black hard rubber screw-cap eyedropper-filler with transparent Bakelite barrel, 13.5 cm long, nickel plated trim; in Parker's catalog, second only to the Black Giant in size, and the largest model offered with a Bakelite barrel; good cap imprint with 1912 patent date, barrel imprint clean, includes "BAKELITE" lower line; some minor scuffs to the cap, tool marks to sides of crown, big #8 Lucky Curve nib, intact Lucky Curve feed.
DATE: c. 1915 • CONDITION: VG • NIB: medium fine flex • $3250

---

11323: Parker Duofold Senior: striking streamline button-filler in copper pearl -- not a catalogued color, with only a handful of examples known; 13 cm long, gold filled trim, full USA imprint, excellent color, some plating wear to the lower cap band. A notable Parker rarity.
DATE: c. 1932 • CONDITION: fine • NIB: fine • $1950

---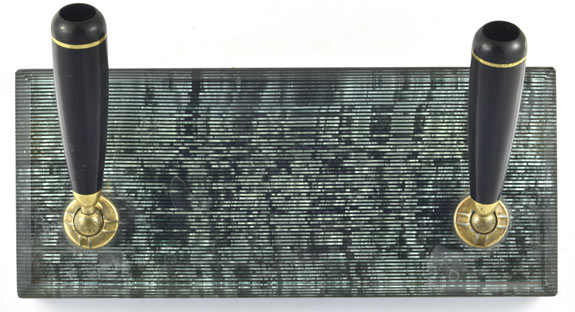 15330: Parker Vacumatic desk base: rare double holder, glass with a layer of green pearl laminated celluloid, base measures 7 x 3 inches (17.5 x 7.5 cm), Art Deco classic offered only for a short time, with very few surviving examples. Original decal in front and labels on bottom, slight separation of bonding of celluloid and glass visible when viewed at certain angles, as shown in details.
DATE: c. 1939 • CONDITION: fine • $450

---

12984: Parker 51 Demi Princess: extremely rare gold filled Aerometric filler, 12.5 cm long, with faceted "jewels" set into the ends and around the upper cap; shallow bumps to side of cap, otherwise excellent.
DATE: c. 1950 • CONDITION: fine • NIB: fine • $2250

---
11211: Unic Duocolor: French-market version of Zerollo's famous two-nibbed fountain pen, boldly patterned red and black hard rubber, 13 cm long, gold filled trim, bold imprints with patent number and both Unic and Zerollo names, crisp knurling at cap top. Condition is like new, noting a tiny nick to the cap lip (see detail; very common on these pens). Unusually, the nibs are different in tip width, one being more calligraphic and the other more suitable for note-taking.
DATE: c. 1935 • CONDITION: near mint* • NIB: medium stub flex/fine semiflex • $5685

---

6130: Waterman 14: black hard rubber eyedropper-filler with fluted gold filled overlay and hardstone cap top seal; 13.3 cm long, a rare but fully catalogued factory model most often found in France and England (a version appears on p. 53 of Waterman's 1908 USA catalog under "Special Mountings" as Emerald End Special Fluted, priced at $50 -- more than three times the cost of a full sterling silver Snake); French hallmarks, no dings, but one small test mark on the seal bezel, imprints on posting end worn but mostly legible; #4 New York nib, spoon feed with patent date imprints.
DATE: c. 1908 • CONDITION: VG-fine • NIB: extra-fine flex • $1450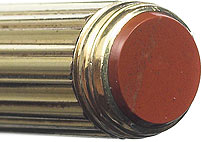 ---

9687: Waterman 12: English-market black hard rubber half-overlay eyedropper-filler, 13.2 cm long, 9K solid gold barrel overlay, London-hallmarked with Waterman factory maker's mark; pattern is a combination of twist and deeply hand-chased floral scrollwork -- uncatalogued, and hitherto unknown. Barrel cartouche is monogrammed, gold has been polished down, so that the date letter cannot be read..
DATE: c. 1908 • CONDITION: VG-fine • NIB: fine flex • $2850

---

14475: Waterman 14: rare black hard rubber eyedropper-filler, with 18K solid gold fluted overlay, French-hallmarked, with bloodstone seal at end of cap with applied crowned monogram in gold; 13.6 cm long, scattered light dings, mostly to the cap, one small chip in the bloodstone seal.
DATE: c. 1912 • CONDITION: VG-fine • NIB: extra-fine flex • $2250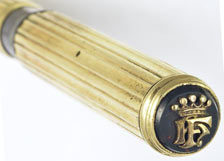 ---

16150: Waterman 414 PSF: extremely rare black hard rubber coin-filler with sterling silver filigree overlay; 13.4 cm long, all markings clear, a few light bumps to the cap crown, clip solidly attached but a bit loose side to side; very flexible #4 nib. Waterman made coin-fillers for a brief time and few survive. We originally sold this pen nearly 16 years ago, fresh from an estate.
DATE: c. 1913 • CONDITION: fine • NIB: fine flex • $2650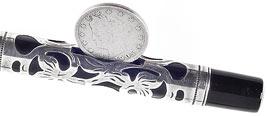 ---

13162: Waterman 552V LEC: rare and uncatalogued black hard rubber lever-filler with smooth solid 18K gold USA factory overlay, 11.15 cm long. 18K marks on cap, barrel, clip, lever, and nib; no French hallmarks, but tiny Jules Fagard stamp is on heel of nib and back of lever end. Pinprick marks to cap, bumps and polishing wear to milling at end of barrel. Barrel end bears no number, cap is longer than usual for a "V" size pen. The only example of its kind known to date.
DATE: c. 1924 • CONDITION: VG-fine • NIB: fine flex • $1875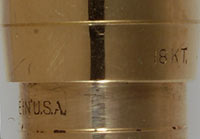 ---

14935: Waterman 52½V: black hard rubber clipless vest pocket lever-filler, 11.1 cm long, seven-sided 9K solid gold London-hallmarked engine turned overlay with enamel-inlaid perpetual calendar. Initials "P.S" engraved on cap top, date letter for 1930/31. A very rare and characteristically English model in notably clean condition.
DATE: c. 1930 • CONDITION: exc • NIB: broad oblique • $2950

---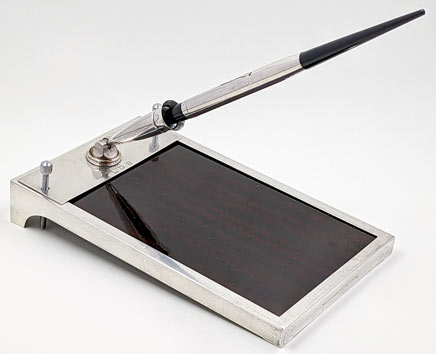 16025: Waterman desk set: rare full sterling silver ensemble, #2-size lever-filler pen in hard rubber with full smooth barrel overlay, base has woodgrain Bakelite center block with sterling silver frame, clamping thumbscrews for a notepad (not included). Base measures 4 3/16 x 7 inches (10.6 x 17.6 cm), engraved initials, fully marked Black, Starr & Gorham.
DATE: c. 1940 • CONDITION: exc • NIB: medium fine flex • $1200

---
11209: Zerollo Duo Color in box: legendary two-nibbed Italian pen in smooth black hard rubber, 13.1 cm long, gold filled trim, good strong cap imprint, clean original box.
DATE: c. 1933 • CONDITION: fine-exc • NIB: fine semiflex • $3650

---
---