---

14886: Conklin 4 cutaway demonstrator: early mottled hard rubber slip-cap barrel assembly, 10.65 cm long, nickel-plated unmarked crescent, flat profile lock ring, 1903 latest patent date in imprint; appears to have been made from a factory reject barrel -- note that the "4" was stamped too hard and too close to the end of the barrel, breaking away some of the material (see detail).
DATE: c. 1906 • CONDITION: VG-fine • $225

---
15119: Mabie Todd Swan Self-Filling cutaway demonstrator barrel: black chased hard rubber lever-filler, 9.3 cm long, nickel plated trim, New York production, shows classic Swan locking lever action.
DATE: c. 1920 • CONDITION: exc • $95

---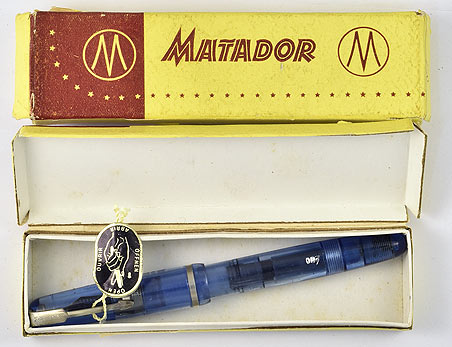 13887: Matador Click 007 demonstrator in box: transparent blue piston-filler, 13 cm long, nickel plated trim, gold plated nib, new old stock with clip tag, some internal stress marks visible from original manufacture, two available.
DATE: c. 1960 • CONDITION: near mint • $265

---

15325: Parker 28 Jack-Knife Safety: oversize black hard rubber screw-cap eyedropper-filler with transparent Bakelite barrel, 13.5 cm long, nickel plated trim; in Parker's catalog, second only to the Black Giant in size, and the largest model offered with a Bakelite barrel; good cap imprint with 1912 patent date, barrel imprint clean, includes "BAKELITE" lower line; some minor scuffs to the cap, tool marks to sides of crown, big #8 Lucky Curve nib, intact Lucky Curve feed.
DATE: c. 1915 • CONDITION: VG • NIB: medium fine flex • $3250

---

13764: Parker 24 Jack-Knife Safety: button-filler with black hard rubber cap, transparent Bakelite barrel, 13.4 cm long, nickel plated trim, #4 teardrop-vent nib has barely visible hairline at base (see details) and is fully functional, Lucky Curve feed is intact, as is original riveted pressure bar; name engraved on barrel, a transparent silicone sac has been installed.
DATE: c. 1918 • CONDITION: fine • NIB: fine semiflex • $565

---

13912: Rotring Tikk Kuli ballpoint demonstrator: transparent dealer-only version, 12.2 cm long, German made, thin wash plating to trim mostly worn off, but condition otherwise fine to excellent.
DATE: c. 1960 • CONDITION: VG-fine • $165

---

15999: Waterman Ink-Vue demonstrator: transparent celluloid with black ends, 12.85 cm long, clipless version without end globe or cap band specially furnished for use with Signagraph check-signing machine; not much used but fine network of stress cracks over the inner cap (see details), band of wear to barrel where clamped in Signagraph; original sac has not been replaced.
DATE: c. 1939 • CONDITION: fine* • NIB: medium semiflex • $395

---
---